Contact us at
240-687-1678 or
repairs@
electroscooterworks.com

New and used Scooters now available for sale!!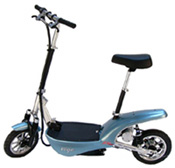 We now have quality new and used scooters available at our location. Contact us for further details.


EV Projects
Electric Giant Stiletto Chopper

Click here for more pictures

We were fortunate to get a Stiletto to play with for this project.

The intent was to have the ability to pedal and have the power assist at the same time. So we added a 36-volt Heinzmann hub motor system. The motor, which is mounted on the front rim, is 900 watts and the the bike also has a removable 7 Ah NiMH battery.

Top speed is about 25 mph in electric mode. We are working on a blue one now so stay tuned.
Dual Motor Schwinn Missile

This is our first dual motor Schwinn Missile Scooter. The original scooter came with a 250 watt motor. We replaced it with two 600 watt BMC motors. The rider can choose to run with just the one motor or both.

The next set of improvements planned for the scooter includes a rear disk brake and a parallel set of batteries to improve the range.
Dual Hub Motor Worksman Semi-Recumbant Bike

The Worksman is a dual hub motor project based on a semi-recumbant Worksman Y3K bike.

The bike features a rechargable 36-volt NiMH battery pack, motor controller, on-board charger and the dual hub motors. There is a current limiting switch built into the throttle so you can choose between economy and turbo mode. The bike is designed so you can ride with either motor alone or together or you can pedal or pedal with assist of the motor(s). A very flexible bike.
144 volt Electric Ford Escort

The project that got us into the electric vehicle movement. This is our personal car that we converted 10 years ago. It has over 50,000 electric miles. That equates to about 2,000 gallons of gasoline saved.

It features an Advanced DC 28 HP continuous motor (100 peak HP), 18 8-volt golf cart batteries and a DCP Raptor controller. It uses the existing manual transmission but you can just basically leave it in 2nd most of the time when driving around town. Range is 40 to 65 miles and it has a top speed of 90 mph driving along I-95.
---
Repair Services | Upgrades | Custom Fabrication
About Us | Location | EV Projects | Links | Home
©2017 ElectroScooterWorks, LLC
6751 Mid Cities Avenue • Beltsville, Maryland 20705
240.687.1678
repairs@electroscooterworks.com