E-Bike Conversions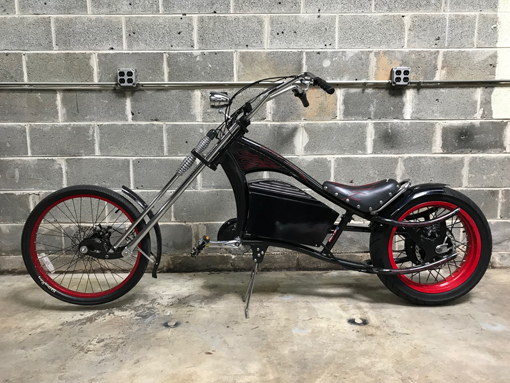 In addition to electric bike repair we install popular E-Bike conversion components from Bionx, Crystallite, Grin Technologies, Luna Cycles and Currie Technologies. Our first conversions were Brompton folding bikes with Bionx components.

The Schwinn Spoiler (above) features a QS 2000 watt hubmotor and 60 volt lithium battery pack. A custom battery box was fabricated out of sheetmetal and powder coated to match the bike.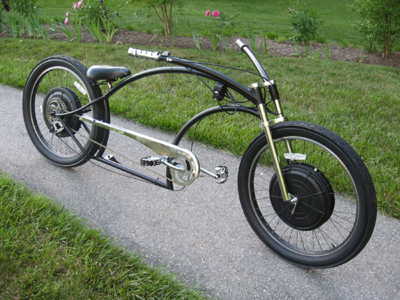 The Joker Bike features big 3 inch wide flame tread tires, rear disc brake and custom long chain guard. The electric motor and battery are WaveCrest components. The bike has regenerative braking, turbo mode and cruise control.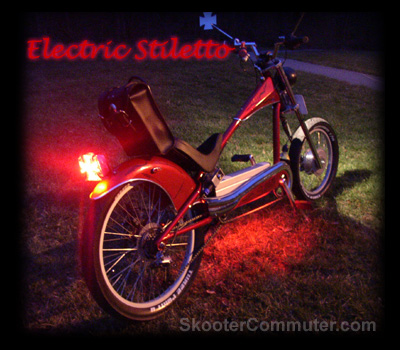 This Giant Stiletto features a Heinzmann hubmotor, a removable 36-volt NiMH battery pack, motor controller and lighting effects. This bike will cruise up to 25 mph and has built-in cruising and turbo mode. With both pedaling and electric capabilty the rider can pedal, cruise on electric power or both.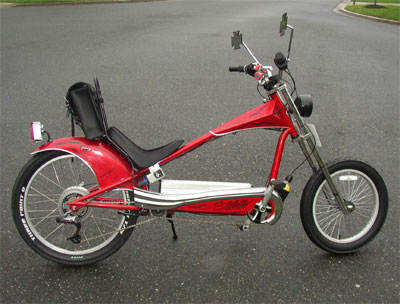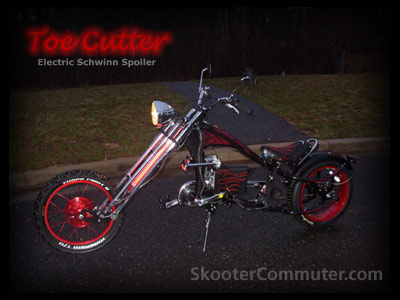 Toe Cutter was one first electric chopper bike project based on a Schwinn Spoiler. It features a Heinzmann hubmotor mounted on the front rim and color matched to match the rear rim. The 36-volt NiMH battery is mounted mid frame. The bike features neon lighting between the front forks, a motorcycle headlight and dual trumpet air horns. Top speed is 25 mph and we installed a smaller sprocket up front for easier pedaling.
Heinzmann Hubmotor Installation
The Worksman is a dual hub motor project based on a semi-recumbant Worksman Y3K bike.
The bike features a rechargable 36-volt NiMH battery pack, motor controller, on-board charger and the dual hub motors. There is a current limiting switch built into the throttle so you can choose between economy and turbo mode. The bike is designed so you can ride with either motor alone or together or you can pedal or pedal with assist of the motor(s). A very flexible bike.

Dual Motor Schwinn Missile

This is our first dual motor Schwinn Missile Scooter. The original scooter came with a 250 watt motor. We replaced it with two 600 watt BMC motors. The rider can choose to run with just the one motor or both.

The next set of improvements planned for the scooter includes a rear disk brake and a parallel set of batteries to improve the range.
Repair Services | Warranty Work | E-Bike Conversions
About Us | Location | EV Projects | Links | Home
©2018 ElectroScooterWorks, LLC
6751 Mid Cities Avenue • Beltsville, Maryland 20705
240.687.1678
repairs@electroscooterworks.com