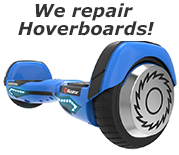 Authorized Service Center for Razor, Power Wheels, Dyncraft, Peg Perego and Currie Electric Bikes

Call us!
240-687-1678

6751 Mid Cities Avenue
Beltsville, MD 20705

Winter Hours
Monday: 10am to 6pm
Tuesday: 10am to 6pm
Wednesday: 10am to 6pm
Thursday: 10am to 6pm
Friday: 10am to 6pm
Saturday: 10am to 4pm
Sunday: Closed

Winter hours will vary so
it's best to call ahead.
repairs@electroscooter
works.com
Electric scooter and bicycle repair in the Washington, DC metropolitan area.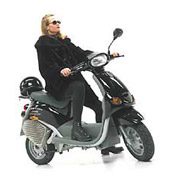 We are an authorized repair facility for Razor and Currie Scooters. We also work on the following scooters and bikes.
Our Latest Custom Project

A dual-motor Schwinn Missile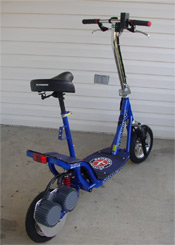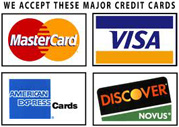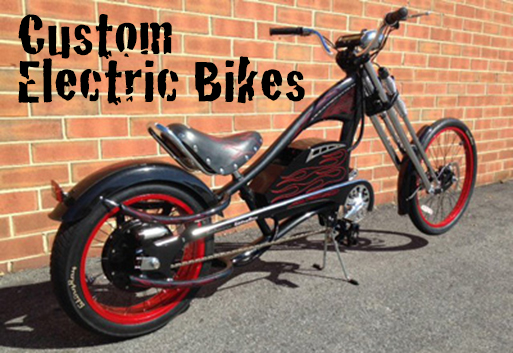 ElectroScooterWorks specializes in light electric vehicle repair, service and electric bike conversions including full out custom bikes. We are an authorized repair center for Fisher Price Power Wheels, Dynacraft, Razor and Currie iZip and eZip Scooters and electric bikes. We also repair hoverboards.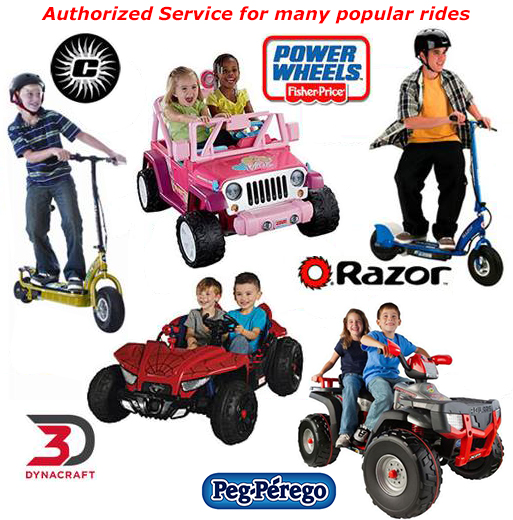 This Schwinn Spoiler, pictured up top, was built for a customer in Chicago. It features a Crystalite 3500 watt hubmotor and 72 volt lithium battery pack. A custom battery box was fabricated out of sheetmetal and powder coated to match the bike.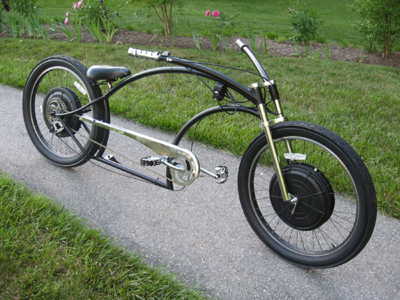 The Joker Bike features a custom built frame and handlebars, big 3 inch wide flame tread tires, rear disc brake and custom long chain guard. The electric motor and battery are WaveCrest components. The bike has regenerative braking, turbo mode and cruise control.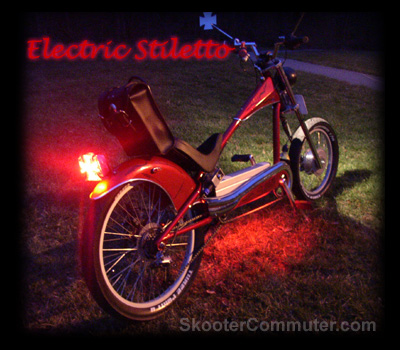 We caught the chopper craze and are pleased to announce our latest creation. A power assist Giant Stiletto featuring a Heinzmann hubmotor, a removable 36-volt NiMH battery pack, motor controller and lighting effects. This bike will cruise up to 25 mph and has built-in cruising and turbo mode. With both pedaling and electric capabilty the rider can pedal, cruise on electric power or both.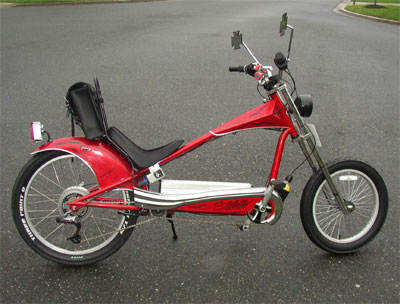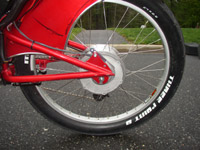 ElectroScooterWorks can install Heinzmann, Crystalite, Falcon and Phoenix hub motor conversions on either the front or rear wheels. This particular version of the Stiletto has Heinzmann motor installed on the rear.
Since the bike originally was equiped with a rear disc brake and the power wire coming into the hubmotor was on the same side of the brake we had to remove the disc brake and locate the mounts for the rear brake on the lower portion of the frame. This required welding in new brake brackets for the new rear v-brakes. All work is done in-house.
The motor that was originally installed on the front wheel of the Stiletto is now installed on our "Toe Cutter" Electric Chopper.
Both bikes were built for our partner, SkooterCommuter and the Stiletto is used daily for commuting.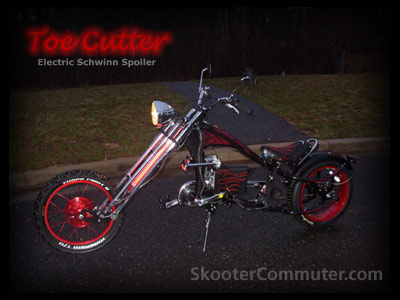 Toe Cutter was one first electric chopper bike project based on a Schwinn Spoiler. It features a Heinzmann hubmotor mounted on the front rim and color matched to match the rear rim. The 36-volt NiMH battery is mounted mid frame. The bike features neon lighting between the front forks, a motorcycle headlight and dual trumpet air horns. Top speed is 25 mph and we installed a smaller sprocket up front for easier pedaling.
Heinzmann Hubmotor Installation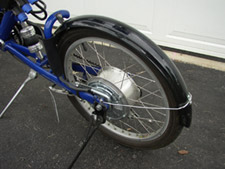 For power assist bicycles we install the Heinzmann hub motor system. Available for bikes from 16" to 27" inches. The hub motor is built into the hub of the wheel eliminating the need for sprockets, belts and chains.
We can have a hub motor installed for your bike's particular rim size and install the battery and controller. Systems are available from 24 to 36 volts and we can also install the system on a pedicab. Call us for further details.

Custom Scooter and Bike Work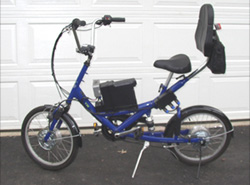 With over 10 years in the electric vehicle business converting cars to run on electricity, we have the capability to design and build many types of electric scooters and power assist bikes.
One of our latest creations is a Y3K semi-recumbant bike built for our client SkooterCommuter featuring dual Heinzmann motors powered by a 36-volt NiMH battery pack. The motors can be run together, alone or can assist as you pedal the bike up a steep hill.
Scooter Parts
Since there are a wide variety of scooters available today we cannot possibly stock every part. If your scooter needs a part that we do not have during the repair we can give you the option of expedited shipping if the part is available from the vendor. If the company that built your scooter is no longer in business we can substitute other parts such as a throttle, motor and controller.
---
Repair Services | Upgrades | Custom Fabrication
About Us | Location | EV Projects | Links | Home
©2017 ElectroScooterWorks, LLC
6751 Mid Cities Avenue • Beltsville, Maryland 20705
240.687.1678
repairs@electroscooterworks.com